Top Nine Random Things Running Through Eydie's Head This Week
Make every day a day at the circus! Love the stache!
1. Is it ok to like the circus? I feel like I shouldn't. Today I went to Circus World Museum in Baraboo, Wisconsin. My kids, the fabulous Elissa, and her adorable baby, Ethan, also went. Elissa and I were disappointed that the "Big Top" show no longer featured the monkey dressed like a cowboy. The monkey rode around on a stage coach being pulled by a frisky miniature pony. Oh. The monkey also shot rifles into the air. Today's show featured a Persian cat riding an Afghan dog, a monkey who pretended (?) to slap his trainer, and the usual singing ringmaster. What I do know is I had a great time and that I really like animals dressed in clothes. Hmmmm.
2. I LOVE CANNING! I have never canned anything in my life until five days ago. Now all I can think about is lining shelves in the basement with clearly labeled jars of preserves, tomatoes, salsa, sauces. People will be in awe of my homemaking prowess. I will give tours of my canning jar mecca. It took me a full 24 hours to completely clean my kitchen after the canning sessions. It looked like raccoons had moved in.
4. Everytime I drive through Lodi, Wisconsin I think about Tom Wopat. You know, Luke Duke from the "Dukes of Hazzard." He grew up in Lodi. I have been driving through Lodi a lot lately - to get to Devil's Lake & Circus World. I do not want to think about Tom Wopat so much.
5. What should I wear for school pictures this year? I have learned that wearing A LOT of make up helps. This year I am going to be adding sweeps of bronzer. Of course, with all that makeup on, you look a little clownish the entire day. But it is worth it for a photo that isn't horrifying on my school ID. Last year, I decided to wear my hair up for school pictures. Big mistake. I looked like I was returning from a long day at a highly chlorinated swimming pool.
6. Is it TOO desperate to figure out how many hours it is until the kids go back to school? I am tired of yelling at them for yelling.
7. What book should I read next? After I read that "Woods" mystery, in July, I just stopped reading books. I am so afraid that I will never read a book again. I will lead a life of flipping through Rachel Ray magazines and self-help books. I suppose I could reread the Little House series, through the eyes of a 45 year old woman. Sharon and I once dramatically read a portion of The Long Winter, and were deeply saddened by how boring it was. I think we read the part about twisting hay sticks. Okay. My choices are now between Squirrel Seeks Chipmunk, by David Sedaris and The Road by Cormac McCarthy.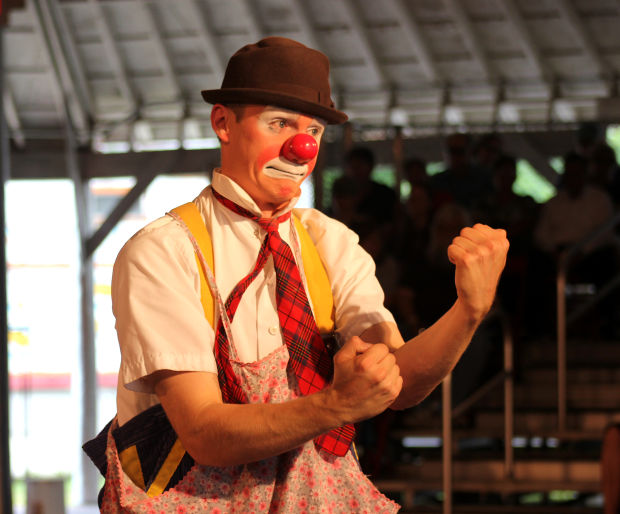 8. Back to the circus. As a rule I am not a huge fan of clowns. However, when I was at Circus World Museum today, I decided to be in the moment and embrace the clown act. It started off great with a clown trying to get on a trampoline. It ended with "I'm Sexy and I Know It" being blasted through speakers while the clown strip teased vest, after vest, after vest, until he finally revealed a huge white bra. So, I am full circle. Is it okay to like the circus?
9. I am coughing dust for ideas about Michael Landon Monday. I am relieved that this Monday is Sharon's turn to post. Most of the Michael quotes that pop up when you "google him" are about death. Prairie Grlz is supposed to be an uplifting, affirming, encouraging blog. We don't want our readers to be leave mulling over their mortality. Maybe "Michael Landon Mondays" can be switched over to "Tom Wopat Wednesdays!"
Prairie Eydie
(And notice we completely ditched the "Beauty Tip Friday" segment, unless Eydie's comment regarding the sweeps of clownish bronzer is the tip for the week.)
(P.S. You should try sweeping bronzer over your cheeks, Sharon! It is an awesome tip. I have noticed that you looked a little sallow in last year's school photo.)